Live in a manga.
Save the sushi-ya.


Pet a frog . . . ?
Sushi Ben is a VR narrative adventure with 3D manga panels that will immerse you in the story as you help out a local sushi bar stand up to the encroaching landsharks buying up Kotobuki Town.
Big Brane Studios was co-founded by Kane Garrett & Brian Hicks back in 2021 to make their first VR game.
​
Sushi Ben started as Kane's animation thesis at SCAD.
Meta Quest 2&3
Oct. 19, 2023
COMING SOON TO:
SUB TRANSLATIONS:
To be released some time post-launch
META RELEASE TIME:
Streaming📺



Sushi Ben FROM META Quest?
Upon purchase on the Quest Store, each player will have access to a PC/Rift version through the Oculus PC App.

More info on setup & requirements:
https://www.meta.com/ca/quest/setup/
A powerful visual storytelling tool taking inspiration from manga and with the intent to bring film language to VR narratives.
​
These stylized pop-ups help make you feel like the protagonist who's going to save the day and the town!
Of course there's fishing.
Some of the activities you can look forward to:
​
Fishing

Table Tennis

Dog Walking

Photography

Ghost Hunting
​
. . . & there's still more!
Yes, the

Hatoful Boyfriend

creator.
The very same wonderful writing that brought you to care about pigeons now brings you to a small fishing town with a landshark problem.
​
Meet the eclectic characters brought to life by Moa's writing – maybe even see a cameo of everyone's favorite pigeon . . . ?
Maybe you'll recognize someone?
The various townsfolk you will meet are fully voiced by talented VAs. Among them are such talents as:
​
Hideyuki Tanaka

Chiaki Takahashi

Mamiko Noto

Urara Takano

Shintaro Asanuma​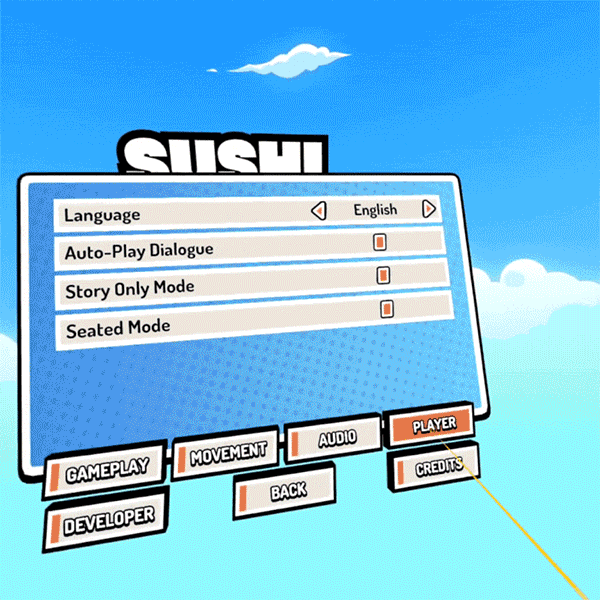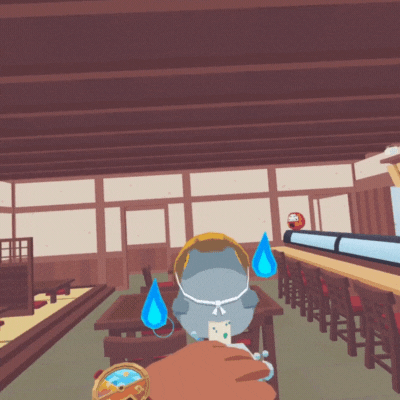 1 / Lost? CHECK YOUR WATCH
Map not helping you find your objective?
Check the reddish tab on your watch – it will point you in the right direction. Be sure to also check for pillars of light!
If a dialogue box gets in the way or you can't see it properly, point at it and hold the grip button to move it up and down.
In the menu's PLAYER Tab you can change the skin tone of the in-game hands to match yours and also switch which hand wears the watch.
4 / customize your movement
The menu's MOVEMENT Tab allows you to not only change your walking speed but also movement & rotation type, rotation speed, and movement direction.
​
Wanna sprint? Push down the Left Hand Thumbstick!
Did you think we would lie about petting the frog?
Maru loves getting pets!